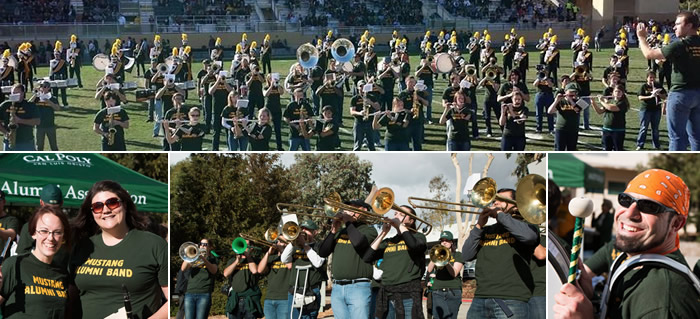 The Cal Poly Mustang Alumni Band
The Mustang Alumni Band is composed of alumni who participated in the band program during their time at Cal Poly. The band comes together every year at Cal Poly's Homecoming football game. Members have the option of participating in many different activities: marching down with the Mustang Band, playing in the stands during the game, performing on the field during halftime and post-game, and attending the annual meeting.
Joining
There is no formal process to join the band but we do have a mailing list for those interested. We request members RSVP every year to participate in Homecoming festivities.
Homecoming 2018
Homecoming weekend of 2018 is November 9 - 11.
SCHEDULE: The current schedule is an estimate, but we will get more information soon. Please note that some events are required (noted with *) if you are planning on marching with the band. If you are playing, then the Friday rehearsal is strongly recommended.
FRIDAY, 11/9/18:
7-9 pm = Alumni Band rehearsal, Instrument and music pick-up in Location TBD
9 – ? pm = Alumni Band social time at Spikes
SATURDAY, 11/10/18:
* 9:00 am = Meet in music building for warm-up/logistics
* 10:00 am = Half-time drill music and drill rehearsal with band on TBD
11:30 am – 12:45 pm = Alumni Band lunch and meeting (free food for alumni band members) at Milestone Tavern, 972 Foothill Blvd., San Luis Obispo, CA, Phone: 805.439.4316
* 1:15 pm = Call-time for alumni at Alumni Association Booth near UU Plaza
* 2:00 pm = STAMPEDE PARADE step off - Mustang Band and Alumni Band
* 3:00ish pm = Alumni Band plays at Tailgates for "Tips"
* 3:40 pm = ALUMNI BAND in stands ready to watch Pre-Game
* 3:45 pm = Pre-Game
* 4:05 pm = Kick-off of Homecoming Game
7 pm (or whenever game ends) = Post Game - Mustang Band and Alumni Band
8 pm = After game celebration

SUNDAY, 11/11/18:
10am = Alumni breakfast at Novo downtown
RSVP
As has been true in the past few years, the Active Band is huge, so we need numbers to make sure there is space in the stands and on the field for the Alumni Band. Please fill out the Google Form as soon as possible to RSVP.
Instruments
The Alumni Band does not have a budget for instrument rental. We must borrow instruments for the Alumni Band members that do not have them. Please contact Diana Degenkolb ASAP if you have any kind of ability to borrow instruments. Please be aware that we will try our best to find instruments for everyone for free, but we have no control over the quality of free instruments. If you want to be guaranteed a high quality instrument and have the funds, we recommend that you consider renting your instrument this year from a local music store OR you can rent high quality marching drums from Zach Hubbard.
Music
For Homecoming 2018, we do not yet know what the musical performance will entail. Remember that you MUST attend Saturday morning rehearsal in order to participate in half time. This section will be updated with a link to print music once it is available.
Uniforms
The official alumni band uniform is a short-sleeved T-Shirt (FRONT: Mustang Alumni Band, BACK: The Best Band in The History of Cal Poly Bands), nice jeans without holes or tears and closed toed shoes. If you are not wearing the correct attire you cannot participate with the alumni band. The shirt will cost $10 and will be required for any member that is playing, marching and/or sitting with the band in the stands. The T-shirt front will need to be visible while we are playing, but you can wear long-sleeved shirts underneath or jackets that can be opened completely in the front. Shirts will be available to buy at all of the rehearsals and alumni events.
Cost
Members must make a one-time purchase of the alumni band shirt which is $10 to participate. In addition, we ask for a $20 donation each year to fund the alumni band activities. Most of this cost goes towards the sponsored alumni band lunch/meeting which occurs the afternoon of Homecoming.
Lodging
If you haven't made your hotel reservation yet, please do so ASAP (hotels fill up fast). The alumni band has an opportunity to reserve a block of hotel rooms at the Embassy Suites at about $168 a night, much cheaper than the current going rate. The only catch: we must book 10 rooms there to qualify. If you are interested in booking one of these rooms please let Mike or Jeff know ASAP. Even if you already have a room at Embassy Suites this is likely a cheaper rate; if you'd like to switch your reservation to this hotel block, please let us know ASAP.
On the less expensive side, SLO has two Motel 6 locations: South and North
The Apple Farm is close to campus and a SLO treasure, but more expensive.